Colorado Basketball: Buffs will be on outside looking in when it comes tourney time
The Colorado Buffaloes will not be invited into the field of 68 for the NCAA tournament this March. That's just the way it is.
After blowing back-to-back games to Washington and Washington State, both in overtime, the Buffs have dropped to 0-8 in the Pac-12 conference and their record sits at 10-10 after a 10-2 start.
"In the first half we were in the gaps and we were making them take tough twos, but in the second half they were getting that ball to the rim and I thought our defense, whether it was man or zone, certainly wasn't good enough. That was the difference in the ball game. Consistency, again, with this basketball team is our Achilles heel. We played well enough in the first half to win that game, but we can't put anyone away because we can't get stops at critical times", said CU coach Tad Boyle following the loss to Washington.
However, in that particular game, the Buffs shouldn't have had to make a play at he end to put the Huskies away. After all, they had a 17-point lead in the second half.
That puts Colorado in a precarious position, because even if the Buffs were to win each of their 11 remaining games, they'd finish the year at 21-10, not including the Pac-12 conference tournament. That likely wouldn't be a good enough record to get into the field of 68, and the committee would certainly point to the current eight-game losing streak as reason to leave the Buffs out.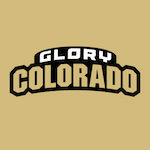 Want your voice heard? Join the Glory Colorado team!
Write for us!
Of course, they could win the Pac-12 conference tournament and earn an automatic bid, but since they haven't been able to win a single game in the conference, that seems like a tall order. Unfortunately, it may be the only way they qualify this year.
Colorado has made the NCAA tournament in four of the last five years under Boyle, after going nearly a decade without being invited.
It's almost like the football team and basketball team decided to switch roles.